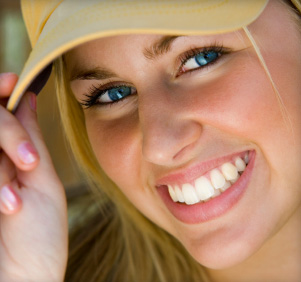 Smiling, eating, and other activities that involve your teeth can be hard when you're worried about yellow or chipped teeth. But with dental veneers, you can go back to functioning like you always have, and at the highest level!
Dental veneers can address a variety of issues such as:
Tooth stains.
Discolored teeth.
A chipped tooth.
Broken teeth.
At Weinberg Dentistry, we offer a specific type of dental veneers: porcelain veneers. Porcelain veneers are a modernized and advanced form of veneers that tend to last longer and not stain as quickly. That's because, unlike resin-based veneers, porcelain veneers are durable and long-lasting.
If you're curious to know more about how you can improve your smile and overall health of your teeth with porcelain veneers, contact us. We're more than happy to go over questions about porcelain veneers so we can find a treatment that works for you!
Addressing Your Smile With Dental Veneers
As you grow older, it's common to have teeth that become stained or discolored. This staining may come from the foods and beverages that you consume—ranging from coffee to sugary foods. In other cases, you may have chipped or broken teeth from accidents, aging, and other related causes. Additionally, your smile and the health of your teeth may be affected by gaps in your teeth and uneven teeth.
With dental veneers, Dr. Weinberg can address these and many more dental issues. Dental veneers were made to help you improve your smile and the health of your teeth! At Weinberg Dentistry, we've seen our patients' smiles and teeth go from chipped and stained, to flawless and healthy! That's because we believe that our patients deserve the most advanced and outstanding forms of dentistry!
Learn How to Improve Your Smile
What Are Veneers?
Dental veneers are thin layers of material that are placed over the top part of your teeth. They can improve the appearance of your smile by making your teeth look white and uniform. They also work to shore up damaged areas like cracks and breaks in teeth. Once placed, veneers act like a shield, protecting your teeth from further damage.
Dental veneers are often referred to as "instant orthodontics" because they can straighten or reshape teeth, close gaps between teeth, and whiten their appearance with minimal dental visits. When designed by an experienced porcelain veneer provider, like the doctors at Weinberg Dentistry, a porcelain veneer can give your teeth a full makeover that looks completely natural.
Veneers are also a popular restorative dentistry option because they achieve a very natural look with a very conservative shaping of the tooth preparation. Very little of the natural tooth structure must be removed when dental veneers are bonded into place, and the natural strength of the tooth is retained.
Porcelain Veneers Are Advanced and Durable Dental Veneers
At Weinberg Dentistry, we believe in using the latest and most advanced forms of dental practices. For example, many other dentists may use resin-based dental veneers to treat dental issues like:
Stained teeth.
Discolored teeth.
Chipped teeth.
Broken teeth.
Although resin-based and porcelain veneers are both suitable for treating a variety of issues, porcelain veneers have an upper hand when it comes to:
Durability: Porcelain veneers tend to last longer than resin-based dental veneers because porcelain veneers don't get stained as quickly. They are less prone to chipping and breaking than resin.
Natural-Looking: Porcelain veneers shine better in light than resin-based veneers. That means that porcelain veneers tend to imitate some of the same traits that are found in natural teeth.
Cost-Effective: Although porcelain veneers may cost more upfront, they are more cost-effective because they tend to last longer and are more durable than resin-based veneers. You'd be spending more on replacing resin-based veneers than porcelain ones.
If you're missing out on a gorgeous smile, porcelain veneers are the way to go!
Weinberg Dentistry's Porcelain Veneers Exceeds Expectations!
At Weinberg Dentistry, we believe in exceeding our patients' expectations! That means that we'll not only address the concerns that you have with your teeth, but we'll also help you feel comfortable, safe, and included in your journey to a better smile and better teeth.
Additionally, Weinberg Dentistry has a team that will help you every step of the way! Our team includes:
Dr. Brion Weinberg: Our founder and primary dentist. He has extensive experience in all forms of dentistry. He also believes in the importance of making you feel comfortable during your visit!
Dental Assistants: Assistants at Weinberg Dentistry help each appointment go smoothly and streamline the visit so that you can have your needs met promptly.
Dental Hygienists: Our dental hygienists will help you prevent any dental issues before they become serious issues.
Our team strives to make your experience with us comfortable and enjoyable. Contact us today to get started!
Benefits of Porcelain Veneers
Porcelain Veneers Imitate the Look of Your Natural Teeth
What makes porcelain so unique is that it gives a flawless impression. As we mentioned before, that's because porcelain is translucent and tends to shine when light is reflected off of it. In this way, porcelain acts just like your natural teeth!
So, if you're looking for dental veneers that will imitate the natural look of your teeth, then porcelain veneers are what you need! With porcelain veneers, you can get the stunning and healthy smile that you have always wanted!
Gums Tolerate Porcelain Well
Porcelain is a great material to use in veneers because your gums are better able to tolerate them. For example, when it comes to resin-based veneers, your gums may be more resistant. Additionally, without the right material like porcelain, your gums may look discolored or they may also have an embarrassing dark line around the dental veneer that was placed into your mouth.
To avoid these and other issues related to your gums, it's best to use high-quality porcelain veneers.
Additionally, with the right dental team, you can avoid any gum issues by having porcelain veneers that are fitted to your teeth. This prevents any gum recession or discoloration since the porcelain veneers were made to match the structure and position of your teeth.
Porcelain Veneers Are Stain-Resistant
Porcelain veneers are long-lasting. This is especially true if you maintain them well and take care of them. That means that with time, you won't need to worry as much about porcelain veneers becoming discolored.
You might be spending more money upfront, however, this high-quality veneer will last you a longer time than other types of veneers. You'll be saving a lot more money in the long run. You save money by not having to get frequent check-ups, replacements, and other procedures to restore your smile and teeth.
Veneers Can Make Dark Teeth Appear Whiter
Another great benefit of veneers is that they can make darker teeth appear whiter. That's because of the two benefits that we mentioned before:
Porcelain veneers sparkle in the light.
Porcelain veneers are stain-resistant
If you're struggling to smile or feel self-conscious, getting porcelain veneers will not only improve your smile but also help you with your self-esteem. Keep in mind that with the right dental team, like ours at Weinberg Dentistry, you can have dental veneers that match your current natural teeth. You get to keep your smile while having it enhanced!
Once the veneers are placed in your mouth, you should avoid whitening your teeth—the veneers don't take kindly to the process. But because veneers are stain-resistant, you won't need to whiten your teeth anyway! You'll be able to have the sparkling white smile you want without the effort of whitening procedures.
Porcelain Veneers Require Less Shaping Than Crowns
Porcelain veneers are also a lot less finicky than crowns. With crowns, your teeth need to be dramatically shaped to support the crown correctly. However, with porcelain veneers, you can get veneers that match your teeth without all the added stress of extreme shaping.
Additionally, unlike crowns which are often an intense procedure, porcelain veneers are less invasive. For more information about dental crowns and the procedures associated with them, you can visit our dental crowns page.
The Process of Getting Dental Veneers
When it comes to getting dental veneers, you and our dental team will go through different steps.
Step One: Diagnosis and Treatment Planning
During your first visit with Dr. Weinberg, you will share some of the goals that you have for your teeth. For example, the look and feel of your teeth that you're trying to accomplish.
During this step, our dental team will:
Examine your teeth. Our dental team will observe any dental issues that you may have. We will use this examination to determine if dental veneers are a suitable option for you. As mentioned before, we will also take your needs and goals into account.
Take x-rays or impressions of your teeth. This aspect of this step is important because, to create a suitable matching dental veneer, your dental team will need to have a deeper understanding of your teeth. The overall goal of this step is to make sure that dental veneers are a great option for you.
Step Two: Preparing Your Teeth
This step prepares your tooth for the dental veneers. This may include things like reshaping the surface of your current tooth so that the dental veneer can be placed. They will reshape the tooth by taking an amount that is similar to the thickness of the veneer that will be incorporated into the tooth.
During this time, our dental team will send an impression or model of your teeth to a lab so that a matching veneer can be made. As you wait for the impression, Dr. Weinberg may place a temporary veneer onto your tooth.
Step Three: Veneer Bonding
Our dental team will call you in for another visit where your veneer will be fitted into your tooth. Dr. Weinberg may trim or reshape the veneer so that it's an exact match for your tooth.
Once this is done, Dr. Weinberg will cement the veneer into the tooth. The color of the veneer can also be adjusted to suit the cement being used. Additionally, the surface of the tooth may be carved so that the veneer binds well to the tooth.
Step Four: Aftercare and Maintenance
For this final step, our dental team will check that the veneer suits the form and bite of your mouth. Additionally, we will provide you with information and resources to help you with maintaining and caring for your teeth.
They may also schedule a follow-up visit to make sure that your dental veneer is suitable for your teeth. Part of this visit will also include monitoring the overall health of your teeth.
Common Questions About Dental Veneers
At Weinberg Dentistry, we receive many questions about dental veneers. Here are some of the most common ones.
Who Is an Ideal Candidate for Veneers?
The ideal candidate for dental veneers is anyone who has maintained good oral health. That means someone who is doing the basic aspects of oral hygiene like brushing and flossing, as well as getting regular visits with dentists. Additionally, the right candidate for veneers will not have underlying dental diseases and conditions treated before getting a dental veneer.
What Are the Disadvantages of Veneers?
While there are many benefits to porcelain veneers, there are also some considerations to take in before you get veneers. Here are some factors to consider:
Dental veneers involve a permanent procedure. For example, it involves having the top layer of your enamel removed, as well as some forms of tooth shaping.
Dental veneers are not recommended for people to grind or clench their teeth. The reason that this is the case is that dental veneers are vulnerable to bruxism or teeth grinding.
With the help of an experienced dentist like those at Weinberg Dentistry, you can weigh the benefits vs. risks of getting dental veneers.
How Long Do Porcelain Veneers Last?
With proper care and maintenance, porcelain veneers can last from 7–15 years. As with natural teeth, porcelain veneers may require replacement with time. So, although the procedure is permanent, you will still need to maintain your veneers. If you would like to have porcelain veneers that last you for a very long time, then regular dental visits and proper oral hygiene are a must.
Do Dental Veneers Require Special Care?
As mentioned before, like natural teeth, veneers must be treated gently and with care. That means avoiding:
Grinding your teeth.
Having bad oral hygiene.
Using an oral appliance if you need one.
A poor diet that deteriorates the veneer.
Our dental team should be able to discuss other aspects of your lifestyle that might require adjustment so that you can have the smile that you want!
How Much Will Dental Veneers Cost?
When you meet with our dental team, they will be able to help you understand the cost of getting dental veneers. During your visit, we'll explain any payment plans that are available to you.
That being said, the cost of your dental veneers may fluctuate depending on the overall health of your teeth. It may also fluctuate if other dental issues need to be addressed first.
Schedule an Appointment With Weinberg Dentistry Today!
Still not sure if dental veneers are right for you? Schedule an appointment with one of our outstanding dentists. At Weinberg Dentistry, we'll go over the options that you have when it comes to your teeth. We will also consider your needs and goals as we help you choose the right option. Reach out to us to learn more or to set up your veneers consult.