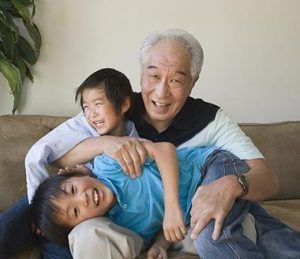 Are you tired of having multiple missing or broken teeth and feeling insecure about your smile? Are you sick of having to avoid certain foods, or being uncomfortable eating or speaking around others? Consider getting implant-supported dentures.
Implant-supported dentures are dentures anchored to your jaw by dental implants, providing you with many benefits that you can't get with traditional dentures:
They're firmly secured to your jaw. You don't have to worry about the dentures coming loose while you talk.
They make it easier to speak and eat. Implant-supported dentures function almost like natural teeth.
They prevent several issues, such as bone loss. Not only do these dentures restore your smile, but they protect you against infection and bone loss.
If you think implant-supported dentures could be the right solution for you, come to Weinberg dentistry. Our quality implants can restore your smile and improve your overall oral health. Whether you're ready to schedule a consultation, or just want to learn more, contact our Juno Beach office today! We can't wait to help you get started!
Missing Teeth Are a Hassle
Missing teeth can cause all sorts of issues that traditional dentures don't fully treat:
Insecurity about your smile. Missing teeth often lower people's self-esteem and can prevent you from going out and doing things you enjoy. Our implant-supported dentures can restore your smile and give you back your confidence.
Changes in your facial appearance. Missing teeth can give your face a hollowed-out look and can lead to bone density loss over time. Implant-supported dentures fill out your face and stimulate your jaw and prevent bone loss.
Speech difficulties. While traditional dentures make speaking a little easier, they still tend to interfere with how you speak. Implant-supported dentures function very similarly to natural teeth, letting you speak clearly and confidently again.
Pain or difficulty eating. Missing teeth make changes in your eating habits, and eating with traditional dentures can be tricky. Because implant-supported dentures are firmly secured to your jaw, you can eat just like you would with your natural teeth.
Implant-Supported Dentures Can Help
Implant-supported dentures provide many cosmetic and oral health benefits that restore your smile and keep your mouth healthy:
Improved face shape. Implant-supported dentures support your jaw and cheeks, keeping your face looking young and filled out. This provides additional support and care that you can't get from traditional dentures.
Security. While traditional dentures can sometimes fall out or become noticeable, implant-supported dentures are firmly secured, so you won't have to worry about your dentures coming loose.
Stimulated jaw bone. Missing teeth can lead to bone loss in your jaw and make you much more susceptible to infection. Implant-supported dentures prevent bone loss by stimulating the jaw bone. They can protect your teeth and jaw from infection.
Little maintenance necessary. Maintain your implant-supported dentures by brushing and flossing rather than putting them in a solution. They're way easier to maintain than traditional dentures!
Extreme comfort. Implant-supported dentures have the comfort and functionality of natural teeth. This gives you a more natural smile, as well as a more natural experience when talking or eating.
There's no need to live without your teeth! Implant-supported dentures can permanently replace them with realistic prosthetics.
Take the First Step With Weinberg Dentistry Today
At Weinberg Dentistry, we work hard to provide quality treatment and service throughout your visits with us. Dr. Weinberg is an experienced dentist, so when you visit our Juno Beach location you can be confident that you're in good hands.
Traditional dentures can be a hassle, but our implant-supported dentures provide care and support traditional dentures don't.
Schedule an appointment with us today!
Patient Reviews
THE BEST!
Weinberg Dentistry has a friendly, skillful staff that spends time explaining what procedures are recommended and will answer all of your questions thoroughly.
Dr Weinberg is a cool guy and he is extremely knowledgeable and competent in every area of dentistry.
I have tried other dentists in the area,
Weinberg Dentistry and staff are the best!
– Thomas S.
How Implant-Supported Dentures Work
A dental implant is a small titanium post that is surgically placed in your jaw. Over time, your jaw bonds with the post, providing a sturdy anchor for dental prosthetics. The denture prosthetic goes over the dental implant and acts as the actual teeth.
The posts are long-lasting and protect your jaw structure from bone loss or shifting. They also provide more functionality with your denture prosthetic, allowing you to easily eat with your dentures and speak more easily.
Implant-supported dentures will need to be replaced roughly every 10-15 years, but the implants themselves will last even longer. Because these dentures are secured to the implants, they are more effective than traditional dentures.
The Dental Implant Procedure
Removal of Any Existing Teeth
This doesn't happen with every dental implant procedure, but depending on the situation Dr. Weinberg may decide to remove any remaining parts of missing or damaged teeth before proceeding with the implant and denture process. This could be done for several reasons, such as:
To make room for the dentures. If there are broken or infected teeth, they may need to be removed so that there's a place to put your dentures.
To prevent infection. The remaining parts of a damaged tooth are much more susceptible to infection.
To make your dentures more comfortable. Dr. Weinberg may decide to remove any remaining teeth to ensure that your new smile looks good and feels comfortable.
Jawbone Preparation
Missing teeth can lead to bone density loss in the jaw, so in some cases, it may be necessary to build up your jawbone before we proceed with your implant. This ensures that the implant is successfully placed and will be effective in anchoring your denture, providing you with the best smile possible.
This will be addressed before your dental implant appointment to ensure that your mouth is healthy and prepared for the implant placement.
Placing the Implant
The process of getting implant-supported dentures will take multiple appointments:
Initial consultation.
Implant placement.
Receiving your denture prosthetic.
During the implant placement appointment, Dr. Weinberg will place the implant in your jaw. After your jaw has healed, the implant will be what secures your denture to your jaw.
If you have dental anxiety, let us know when you come in for your appointment. We offer sedation dentistry options to make your visit as comfortable as possible.
Bone Growth and Healing
After the implant is placed, your jaw will need time to heal before you receive your dentures. The healing process typically takes several months, during which time your jaw will bond with the implant, although you'll feel like your normal self within a week or two.
It's typical for patients' mouths to be very sensitive during the first week or two of recovery. During this time, we recommend eating soft and cool foods to prevent irritation. Try warm soup, smoothies, or pudding! If discomfort persists for more than two weeks, make sure to schedule a follow-up appointment with us.
Placing the Abutment and Dental Prosthetic
The abutment is a small and unnoticeable piece that connects your denture prosthetic to your implants. This is added after your implant has fully healed.
After the abutment has been placed, it's finally time for the dentures! Your dentures are attached to the abutment, restoring your smile. Implant-supported dentures function similarly to natural teeth, improving your speech and making it easier to eat.
Your dentures are custom-made to fit your mouth and provide you with a smile that is high quality and comfortable.
Frequently Asked Questions
Who Is a Good Candidate for Implant-Supported Dentures?
Anyone with many missing teeth could be eligible for implant dentures. There are a few criteria a patient should meet before undergoing the implant-supported denture procedure:
Enough Missing Teeth: We don't want to pull healthy teeth if we don't have to. If you are missing just a couple of teeth, we do have a few tooth replacement options for those cases.
Good Physical and Oral Health: Implant surgery is a simple surgery to recover from if you're healthy. If you have underlying health conditions or take certain medications, surgery might not be a good idea.
Room In the Budget: Implants can be expensive. Luckily implant-supported dentures only need a few of them, but it can still be a hard financial decision to get any procedure involving implants.
Dr. Weinberg can discuss these points with you during a consultation.
How Much Will Implant-Supported Dentures Cost?
The cost of implant-supported dentures will vary depending on certain factors:
If additional prep work is needed before the implant placement. Prep work such as gum disease treatment or a bone graft may be necessary.
What your insurance coverage is. You will be expected to pay for whatever your insurance company will not cover.
The type of dentures you get. You can get full mouth dentures, single arch dentures, or partials.
During your initial consultation, Dr. Weinberg will go over the cost of your dentures and your payment plan with you.
How Do I Take Care of My Dentures?
A nice benefit to getting implant-supported dentures is that you care for your dentures the same way you do your natural teeth:
Maintain good oral hygiene habits such as brushing twice a day. Brushing your dentures is just as important as brushing your natural teeth to keep both your mouth and your dentures healthy.
Schedule regular checkups with us. Your mouth can slowly shift and change over time, so we need to check now and then to make sure that your dentures still fit you properly.
Replace your dentures every 10 years. While your dental implants are permanent, your dentures will need to be replaced now and then. Schedule regular appointments with us, and we'll let you know when it's time to replace your dentures.
Will My Face Change With Dentures?
Implant-supported dentures will fill out your smile. Missing teeth affect your smile and make your face look hollow. Dentures replace your missing teeth and give you back a full smile, and get rid of the hollow look in the process.
Implant-supported dentures prevent shifting. When you're missing teeth, the remaining teeth can shift over time, changing the structure of your mouth and sometimes causing discomfort. Dental implants help keep your natural teeth in place.
Implant-supported dentures protect against bone loss. Another side-effect of missing teeth is bone density loss in the jaw. Implant-supported dentures help to stimulate your jaw, preventing loss in density or volume.
Are Dentures Noticeable?
A great benefit to getting implant-supported dentures is that they look natural, so you can smile confidently. Not only do they look natural, but they function much more naturally than traditional dentures too! Here's how:
The implants keep your dentures secure. Because of this, you don't need to worry about dentures coming loose, or people noticing your teeth. You can move throughout your day with peace of mind.
Eating with implant-supported dentures is easy. You eat the same way you would with your natural teeth, so you don't have to be so careful about what foods you do and don't eat.
Implant-secure dentures make it easy to speak. They're much more secure than traditional dentures so you'll be able to speak clearly and easily, helping to boost your confidence.
How Long Do Dentures Last?
The denture implant is permanent, but the denture prosthetic itself will typically need to be replaced once every 10-15 years. Take good care of your dentures because the better maintained your dentures are, the longer they'll last.
It's important to note that your jaw may naturally shift and change shape over time, which can affect how well your dentures fit your mouth. Make sure to schedule regular checkups with Weinberg Dentistry so that we can make sure that your dentures still fit you properly.
Ready To Schedule?
Restore your smile with implant-supported dentures!
Implant dentures can give you back your smile and your confidence. They provide a variety of both cosmetic and health benefits, such as preventing bone loss. Tasks like speaking and eating become easier.
When you visit our conveniently located Juno Beach location, you can be confident that you're in good hands. Dr. Weinberg and our supportive staff make it a priority to give you a pleasant experience and quality service every time you visit our office.
Ready to take the first step towards a happy and healthy smile? Schedule an appointment with Weinberg Dentistry today!