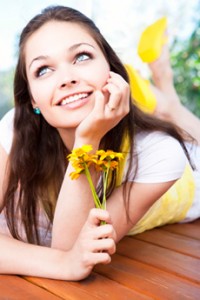 At Weinberg Dentistry in Juno Beach we firmly believe there is a particular system that can give you a gorgeous, perfect smile—Custom Smile Design.
We have the cosmetic dentistry facilities, talent, and skill to implement that system! We offer the most precise planning, meticulous design, and state-of-the-art laboratory facility all right here.
What Is a Smile Design?
Also known as a smile makeover, a Custom Smile Design is an artistic approach to cosmetic dentistry. Through smile design treatment, your smile will be enhanced in every way, making it brighter, whiter, striagher, and more in line with what you want for your smile. It works wonders on the appearance of your smile as well as your overall oral health.
Smile Design in Juno Beach
Advancements in dental technology and treatments have changed a lot about how we treat smiles with cosmetic procedures. The reality is that everyone could use a cosmetic treatment here or there because no one is born with the perfect smile.
Many things play into how your smile looks. This could include things like genetics, predispositions for disease or decay, habits of eating throughout life, or any accidents or dental traumas you've experienced.
You can have taken perfect care of your teeth—brushing and flossing regularly, keeping up on appointments with your dentist, and the works—and there could still be room for improvement.
Luckily, there is now a cosmetic dentistry treatment approach that can encompass all the treatments you might need done to get your smile looking and feeling it's absolute best: Custom Smile Design.
It's important to us at Weinberg Dentistry that you receive the best and latest in cosmetic dentistry. That's why we offer smile design to our patients.
We Have Perfected the Art of Creating a Beautiful Smile!
Custom Smile Design is a very conservative process in achieving a smile with our cosmetic dentistry facilities; a process that could not otherwise be achieved by conventional methods.
A Custom Smile Design is a non-aggressive enhancement of a smile using a combination of various methods to create what you consider to be your perfect smile in the Jupiter and Palm Beach Gardens areas.
Every aspect of your facial structure is considered in the Custom Smile Design process: your eyes, lip line, gum tissue contour, color, and facial structure.
Through the use of digital photography in our cosmetic dentistry facilities, we can take precise measurements and apply this data to our unique processes. This way we are able to achieve a formula for your new, perfect smile.
Meticulous attention to detail is applied to each tooth during this process.
Smile Makeover Before and After
Smile design is a truly all-encompassing cosmetic treatment. Patients can come to us with practically any issues involving their teeth and mouth and enjoy the benefits of a smile makeover which will leave them with a brand new, stunning smile. Some of the treatments often involved in a smile makeover include things like:
Dental Veneers: Veneers are thin layers of sturdy dental material placed over the top of teeth. They can fix issues like cracks, breaks, or chips in teeth. They work wonderfully to protect your teeth from sustaining further damage along those lines. They can also make your teeth whiter and more uniform in appearance.
Composite Bonding: Composite bonding is very useful for fixing cracks, chips, and breaks in teeth as well. Through the careful and precise application of the material, your teeth can be restored to near-perfect conditions. You won't even be able to see the areas that were damaged.
Dental Implants: Implants can be placed to fill in gaps in your smile. The implant itself acts as an anchor or tooth root, holding the dental prosthetic on top in place.
Teeth Whitening: Get a whiter, brighter smile with teeth whitening treatments. The whitening agent in the treatment works to break the bonds of discolored molecules below the surface of your teeth, brightening them up.
Dental Crowns: Crowns can be placed on top of dental implants or over your existing teeth. They act as protection for damaged, broken, or weak teeth and are designed to look and function just like your natural teeth.
Dental Bridges: Bridges are used to fill gaps in smiles that are several teeth wide. They are crafted to look just like your normal teeth.
Teeth Straightening: Straightening your teeth with Invisalign clear aligners will give you a beautifully uniform smile—not to mention it will also work to improve your bite and keep your teeth functioning properly without extra wear and tear.
The end result is one that is just as unique as the individual who wears their new smile! That is our goal with each and every patient.
Creating the perfect smile through Custom Smile Design is a unique art form that must be customized to the features of the individual. You can be assured that Dr. Weinberg and his dental team will do all he can to give you the smile of your dreams when you come to Weinberg Dentistry.
For more information, please feel free to look at our videos on this page. These videos cover topics such as elements that make up a beautiful smile, creating a youthful smile, and whether you are a good cosmetic dentistry candidate.
Average Cost of Smile Makeover
The overall cost of a smile makeover is going to depend on several factors including the number of treatments you need, the type of treatment, where you're getting the work done, and the individual costs of the dentist involved. When you contact our office for a consultation, we'll be better able to give you an exact estimate of your smile makeover cost.
Creating the Perfect Smile Just for You!
If you are looking for the best dentist for a smile makeover, get in touch with us at Weinberg Dentistry today! We'll be happy to discuss the potential treatments you'd need for your smile makeover and what the projected costs might be.

If you are in the Juno Beach, FL, area and are not satisfied with your smile, call us today! We can be reached by calling our office closest to you or by filling out the form on this page.
We will create a beautiful and natural-looking smile for you through our Custom Smile Design process. Dr. Brion Weinberg and his team care about your dental health.