Weinberg Dentistry is a local dental practice serving patients of all ages in the West Palm Beach area.We are thrilled to be able to offer quality dental care at our practice and we can't wait to see you and your teeth! Our office is designed around you, our patient. When you visit us, you can expect to be welcomed and treated like family. We boast a warm, friendly environment where you will receive customized dental care.
We know visiting a dentist can be stressful and scary. That's why we place particular emphasis on making your visit with us comfortable and enjoyable, from start to finish.
Your overall oral health will be enhanced and strengthened with our optimal dental practices, techniques, and equipment. We make it a priority to keep our staff and team fully trained on the latest advances in dental practice and treatment. Everyone in our office is united in our primary goal to give you the dental care you need to have a beautiful smile and a happy life.
Get in touch with our team today by giving us a call! We look forward to hearing from you and helping you on your way to a better, healthier smile.
When Should You Consider A General Dentistry Appointment?
Our favorite kind of dental treatment is the kind we don't have to do. By that we mean it's better for your mouth and your wallet to prevent any serious dental issues.
You can save yourself a great deal of pain, trauma, and money through good preventative dental work. Teeth damaged by cavities, infection, or wear are more susceptible to further complications.
At Weinberg Dentistry, we strive for beautiful smiles and healthy lives. One of the most effective ways we do this is by teaching patients about the importance of keeping up good oral health habits at home, including regular brushing and flossing and keeping regular dental checkups and cleanings.
Contact us anytime if you have questions about preventative treatment or concerns about issues you might be experiencing with your smile. We're here to help.
Learn More or Schedule Your Appointment
Why Regular Dental Exams Are Key
As a general dentistry provider, Weinberg Dentistry is equipped to help you keep your teeth happy and healthy. We hope to keep your oral health above par. It doesn't take as much work as you might think to achieve this high-level kind of oral health. Just schedule and keep a biannual appointment with our office.
Having a dental checkup and cleaning every six months can keep your teeth extra clean, and is the first line of defense against cavities and infection. When you combine your cleanings and exams with good brushing and flossing habits in your home, it's the perfect recipe for excellent oral health.
We've been in the business of helping patients' teeth stay healthy and strong for years, and we want to make sure you too can benefit from our skill and experience.
Make Weinberg Dentistry Your Dental Home In West Palm Beach
Our mission is to give our patients beautiful smiles so they can lead healthy, happy lives. Dr. Weinberg has completed many hours of extra training to make sure that your smile is natural-looking and healthy. You can trust our years of experience to notice any potential problems with your smile and to address them quickly and effectively.
Excellent patient care is a top priority at Weinberg Dentistry. We look forward to being able to enhance your smile and improve your overall oral health with general dentistry.
What To Expect During a Dental Exam and Cleaning
The average general dentistry appointment takes about half an hour to an hour at our office. During this appointment, you can expect us to use state-of-the-art technology and techniques as we:
Take X-Rays: We will take detailed dental images of your teeth. These images will allow us to look closely at the inside of your teeth and gums to make sure there aren't any serious issues or potential problems. If we do spot something, we will discuss with you the solutions we offer.
Examine Teeth and Gums: We'll then examine your teeth and gums thoroughly. The digital x-rays can check for issues going on below the surface of your teeth, but with an oral examination, we'll be looking closely at the surfaces of these areas. We'll primarily be checking for signs of cavities forming or possible areas of decay.
Carefully Clean Your Teeth: Using dental tools and the latest dental techniques, we'll then carefully clean your teeth. This will involve carefully cleaning between your teeth and down slightly below the gum line, where plaque and tartar can build up. It can be hard to get those places at home, so we'll take care of them for you.
Remove Mineral Buildup: Mineral buildup, if left unchecked, can often lead to serious cavities. We'll need to remove any serious buildup on your teeth. This will involve carefully yet firmly scraping away the buildup. It's important to see us twice a year so we can attack that buildup frequently.
Polish Your Teeth: Dental polish is used to remove extrinsic stains and accumulated dental plaque on your teeth. We love it a lot because it is a great way to slightly enhance the aesthetic appearance of your teeth. It's the perfect way to finish off a good general dentistry appointment.
Discuss Healthy Oral Habits: Following all the steps above, we'll then discuss any changes you might need to make to your oral health routine. Based on the issues we see during your examination, we might ask you to floss more regularly or brush more thoroughly. If we notice any cavities, we'll schedule a follow-up appointment to have them filled to prevent further issues down the road.
Oral Cancer Screening: We conduct a full screening for oral cancer each time you visit. Our dentists are trained to detect early warning signs of oral cancer that most people are unable to spot on their own. We use FDA-approved technology that allows us to identify oral abnormalities that increase the risk for oral cancer.
A general dentistry appointment with our office is designed to deep clean your teeth in a way you can't on your own as well as provide you with feedback on any serious threats or issues we see. The ultimate goal of such an appointment is to have them often enough to prevent issues or cavities. Of course, brushing and flossing at home is always a good way to prevent problems too!
Common Issues Treated With General Dentistry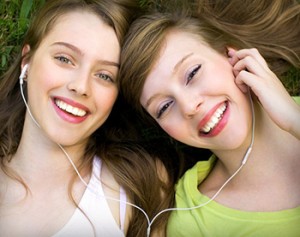 Many common issues can be easily treated through general dentistry. Though these problems can be quickly handled with general preventative dentistry treatments, if left unchecked, they can cause a great deal of damage.
Preventative dentistry is a more effective method for treating many oral issues than trying to fix problems later. We can treat a lot of issues by using simple preventative procedures in general dentistry.
Plaque and Tartar Buildup
Bacteria in plaque produce acids after you drink or eat. These acids can eat through the enamel on your tooth.
Untreated plaque can and will eventually harden into what is known as tartar. This is particularly difficult to remove, and as such, it can provide the plaque ample time to do its dangerous work of eating through the layers of your teeth.
Mineral removal at Weinberg Dentistry is intended for just this purpose! Using care and special tools, we can scrape off the plaque before it has time to eat away at your tooth or form tartar.
Cavities
Many patients have experienced a cavity or two and are likely to continue to do so throughout their lives. They are very common, but that doesn't mean you shouldn't do everything you can to prevent them.
Cavities are permanently damaged areas on the surface layer of your teeth. They are the result of plaque or tartar buildup that has eaten through your teeth layers.
If left untreated, a cavity will eventually destroy the tooth in question and may even spread infection to surrounding teeth as well. We can seal up cavities with fillings, but preventing them is easier and healthier. Our general dentistry services can help you and your family prevent cavities
Periodontal Disease
Gingivitis is a common, more mild form of periodontal disease. It causes irritation, redness, and swelling of the gums. Gingivitis is caused primarily by a lack of proper dental hygiene.
Left untreated, gingivitis can turn into the more serious periodontitis and cause tooth loss in severe cases. With our general dentistry services, you can get a thorough cleaning and an oral rinse that can prevent gingivitis.
Periodontal disease can only be improved or treated by increasingly good dental hygiene habits, including checkups and cleanings at Weinberg Dentistry and regular brushing and flossing at home.
Toothaches
A toothache is characterized by inflammation, pain, or swelling in or around a tooth. This is indicative of serious tooth decay or infection going on below the surface of the gum line and inside the tooth.
In serious cases of toothache, we may consider a root canal or pulling the tooth to keep the infection from spreading to other teeth.
Our preventative dentistry treatments are a great way to keep toothaches away. All it takes is two appointments a year to check in on your teeth, clean them, and make sure they're any problems forming.
Mouth Sores
You can experience mouth sores on the inner lips, gums, tongue, roof of the mouth, or throat. These can interfere with eating, and can even make talking uncomfortable. A common cause of a mouth sore is an injury to the soft tissues of the mouth, such as biting the inside of your cheek.
Certain medications can cause them to form, as well as bacterial or fungal infections. Often, mouth sores will go away on their own. But if you see yours persisting for a week or longer, you should schedule an appointment with us right away.
Common General Dentistry Questions
What Symptoms Should Cause You To See a Dentist?
Regular teeth cleanings can prevent a lot of serious problems with your oral health. However, that doesn't mean that issues can't still arise. You should schedule an appointment with us if you're experiencing any of the following:
Red, tender or swollen gums.
Gums that bleed when brushed or flossed.
Gums that begin pulling away from your teeth.
Loose permanent teeth.
Sensitivity to hot and cold.
Persistent bad breath.
Unusual taste in your mouth.
Pain when chewing.
What's the Best Routine for Good Oral Health?
Hopefully, we've made it clear by now that regular brushing and flossing are crucial as well as regular dental appointments. But what can you do specifically to get your oral health where it should be?
Brush your teeth when you wake up to clean out the bacteria that's been growing overnight.
Brush your teeth after meals to remove food residue and keep bacteria from forming in your mouth.
Floss at least once a day. Flossers and water picks work pretty well, but good old dental floss does a better job, so use it 2-3 times a week on top of your regular flossing routine.
Set an appointment with us every 6 months. The more often you come, the better chance you have of keeping your teeth healthy.
If you're currently dealing with gingivitis, mouth sores, or plaque and tartar buildup, implementing these preventative techniques will help your situation and may even completely correct it.
For instance, if you have gingivitis, you should see improvement within a couple of weeks as you brush and floss regularly. Other issues like plaque/tartar can be helped along with a good, thorough dental cleaning at our office.
What's Wrong With Bad Breath?
Besides the embarrassment that comes from bad breath, there can also be some health issues associated with the condition.
Persistent bad breath might be an indication of something more serious going on, such as periodontal disease. Gum disease, as it is also known, is caused by a buildup of plaque on the teeth. Bacteria forms on this plaque and start to eat away at the various tissues of the mouth.
This can cause serious problems down the road, so if you, a friend, or a loved one is experiencing chronic bad breath, it's advisable to schedule an appointment with us.
Who Is General Dentistry For?
General dentistry is for patients of all ages. General dentistry should be implemented and taught to young patients as well as older ones because the sooner a patient can form the habits of good oral health cleaning in their homes, the better off they will be as they grow up with these habits firmly in place.
Weinberg Dentistry is a family dentistry, which means we love to see young patients in our office. We are passionate about giving your children the tools they need to have healthy teeth throughout their lives.
Should my child get dental sealants?
Sealants are a fine general dentistry practice for children. They are protective, composite seals that are usually placed on the chewing surface of a child's permanent back teeth to help protect them from decay and prevent cavities.
Children are more susceptible to cavities due to their tendency to forget to brush regularly. As dental experts, we suggest that you consider sealants for them. We will review your child's dental health and eating habits to determine if sealants are an appropriate treatment.
Why Choose Weinberg Dentistry?
At Weinberg Dentistry, we offer general dentistry treatment that will help prevent serious damage and decay to patients of all ages. We help our patients have beautiful smiles so they can live healthy lives.
To give you that gorgeous smile, we emphasize preventative dental care. Our favorite way to fix a problem is to catch it before it starts. Trust us to provide you with the kind of quality dental care your mouth, teeth, and smile deserve.
Set up one of your biannual dental exams with us today!