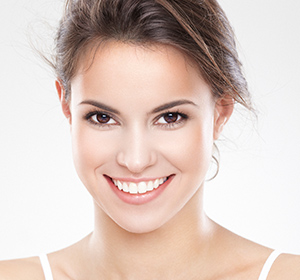 Are you self-conscious about smiling in public? Do you struggle with cosmetic issues such as crooked, yellow, or broken teeth? Consider our cosmetic dentistry options!
Weinberg Dentistry's Juno Beach office offers quality cosmetic treatments to improve your smile and your confidence. From veneers to gum lifts, to teeth whitening, we offer a variety of services to help give you your dream smile.
Take your first step towards a better smile and schedule an appointment with Weinberg Dentistry today!
Don't Let Your Smile Hold You Back
Nobody should have to feel insecure about their smile. Whatever you're struggling with, whether that be teeth that are discolored, broken, or crooked teeth, you deserve to have a more confident smile. We'd like to help with that.
Our dental cosmetic treatment options can help to give you the dream smile you've always wanted. Cosmetic dentistry does more than just make our patients more satisfied with their smiles. It can help patients stop holding back in social situations and feel freer to smile or speak without feeling self-conscious about the way their smile looks.
The Cosmetic Dentistry Solution
When you repair or enhance your smile with cosmetic dental treatments, you can take advantage of the following amazing benefits:
Better self-image.

More confidence in social situations.

Teeth that are easier to clean.

Healthier teeth, gums, and jawbones.

A better-looking smile.
Take The First Step Today!
Here at Weinberg Dentistry, you can rest assured that you're receiving quality care and service. Whatever services bring you into our office, we're here to provide you with quality care and service every step of the way.
Dr. Weinberg is a skilled and experienced dentist, dedicated to improving your smile. Our amazing staff works hard to make sure that your visit is as comfortable as possible. Our priority is that you're well taken care of both in and out of the chair.
Whether you're ready to boost the quality of your smile, or you just want to learn more, now is the time to take the first step.
Schedule an appointment today!
Patient Reviews
"Thank you again for your excellent care. I have referred many people your way over the 15 years that I've been in your practice. We all agree that our smiles are in good hands with you."
– Nicole D
Popular Cosmetic Dentistry Treatments
Teeth Whitening
Ready for a brighter, whiter smile? Our teeth whitening options remove stains and undo yellowing effects that naturally occur to teeth as a person ages.
Our in-office teeth whitening treatment provides quick and long-lasting results. It gives higher-quality smiles than off-the-shelf options. Appointments typically only take about an hour, with immediate results.
Are you too busy to schedule an appointment? Don't worry, Weinberg Dentistry has you covered. We also provide a take-home treatment option. Our take-home treatment still provides higher quality results than over-the-counter options, although results aren't immediate like our in-office treatment.
Porcelain Veneers
Veneers are a great solution for stained, cracked, or misshapen teeth. A thin layer of porcelain is placed over the tooth, covering and fixing stains and cracks. If a tooth is misshapen, a veneer can also be placed to create the desired shape or fill in any minor gaps between teeth.
Porcelain has a similar coloration and texture to natural teeth and can be customized to blend in perfectly with the rest of your smile. Your veneers will make your smile stunning!
Dental Crowns
Remove cracks or discoloration on a tooth with a dental crown restoration. A dental crown is a thin cap that goes over the outer layer, or crown, of your tooth. This is used in cases of damaged or chipped teeth.
Restoring your tooth with a dental crown improves the appearance of the tooth and provides a number of health benefits, such as protection against further damage or infection.
Weinberg Dentistry uses CEREC same-day crowns to optimize convenience. This gives you the same amazing results but only takes one visit, so you don't need to deal with the hassle of a follow-up appointment or temporary crown.
Gum Contouring
Are your gums more prominent in your smile than you would like? Make gummy smiles a thing of the past and visit our offices for a gum contouring treatment. Dr. Weinberg can give you a more pleasing smile, treating aesthetic issues such as high or uneven gum lines
In some cases, gum contouring may make it easier for patients to keep their mouth healthy, making flossing easier and brushing more effective.
Dr. Weinberg uses the newest tech and techniques to shorten treatment and recovery time while still providing amazing results.
Invisalign® Orthodontics
If you're struggling with crooked or gapped teeth, but don't want to deal with the hassle of braces, schedule an appointment with Dr. Weinberg to discuss Invisalign orthodontics.
Invisalign clear aligners can be a convenient way to fix crooked teeth. Invisalign treatment provides many benefits:
Invisalign aligners aren't noticeable. Invisalign® is clear, so you won't have to worry about your smile standing during the alignment process.

Invisalign braces won't irritate your mouth. Invisalign® aligners are smooth. They won't scrape or catch on the inside of your cheeks like traditional braces.

Invisalign aligners are removable. You can take out your aligners during meals, so you won't have to avoid eating your favorite foods.

The Invisalign system is durable. Invisalign can withstand tooth grinding, and can even protect your teeth from bruxism.
Inlays and Onlays
Inlays and onlays are used to restore fractures, tooth decay, or other minor dental issues. They're typically used when more work is needed than filling, but less work is needed than a crown.
An inlay is a pre-molded filling, while onlays are used to repair damage on the outside of your tooth. Inlays and onlays restore a tooth's appearance, strengthen the tooth, and protect it from further decay or damage.
Dental Implants
Dental Implants can be a great solution for missing or damaged teeth, providing a number of both cosmetic and health benefits:
Dental Implants look like natural teeth. The implants are specifically crafted to match your other teeth, blending in with the rest of your smile.

Dental Implants function similarly to natural teeth. Dental implants make eating and speaking easier, and can be cleaned and maintained the same way as your natural teeth.

Dental Implants provide a number of health benefits. Dental implants stimulate your jaw, protecting against bone loss and infection.

Dental implants are long-lasting. The post of your implant is permanent, so you only need to replace the crown, which typically lasts about 15 years.
Dental Bridges
If you have one or more missing teeth creating a gap in your smile, dental bridges can be used to fill that gap and give you back your old smile.
A dental bridge is a series of dental crowns that go over the place where a patient's missing or broken teeth should be, held in place by the surrounding teeth. Dental bridges are designed to look just like natural teeth, and will blend in with the rest of your smile.
Along with restoring your smile, dental bridges also make it safer to eat without damaging your teeth further. They also help to protect your mouth from infection, covering the gaps and preventing bacteria from forming in hard to clean places.
Full Mouth Restoration
If you have many missing, damaged, and/or broken teeth and need a number of different cosmetic dental treatments, Dr. Weinberg may recommend a full mouth restoration. This is a great option if you'd like to get your dental work completed at once, so you can get your dream smile sooner.
A full mouth restoration can be helpful for more than just getting your new smile more quickly, it may help maintain your oral health. If you only get a little bit of dental work done at a time, other damaged teeth remain at a high risk of becoming more damaged or infected. By choosing to get a full mouth restoration, you're preventing further damage to your teeth.
During your initial consultation, Dr. Weinberg will assess the work that needs to be done and customize a dental plan specially tailored to fit your needs.
Botox®
Looking for a more youthful smile? Our Juno Beach location provides Botox® treatments. Dr. Weinberg uses Botox® to provide a number of different aesthetic services, from smoothing out wrinkles to lifting your brow.
Botox® restores a younger look by loosening the muscles under the skin that cause wrinkles and creases to form.
In some cases, Botox® can even be used to treat migraines. If you have TMD or chronic migraines, Botox® may be used to alleviate migraines by relaxing specific muscles and alleviating tension.
Beyond his dental certification, Dr. Weinberg has received additional certification to perform Botox® injections and has both the training and the experience to provide you with the results that you're looking for.
Frequently Asked Cosmetic Dentistry Questions
Are All Treatments Performed in the Juno Beach Location?
Our Juno Beach, office is conveniently located, and all of our cosmetic dentistry services are provided at this location. Whether you're coming in for one cosmetic dentistry procedure or multiple, our team is ready to help.
Our Juno Beach team works hard to provide you with quality service and care every step of the way. Your comfort is our top priority. We don't just want to ensure that you get great results, we want to make your experience as pleasant and hassle-free as possible.
How Experienced is Dr. Weinberg?
Dr. Weinberg is an exceptional dentist with extensive knowledge of the latest techniques and technologies.
To be able to perform cosmetic dentistry procedures, Dr. Weinberg has completed additional post-doctoral studies in both cosmetic and restorative dentistry. He's continuously learning new skills to remain up-to-date and provide the best services possible for his patients.
For more information on Dr. Weinberg's qualifications, visit our about us page.
What Kind of Results Are Typical in a Given Time?
Often multiple appointments are necessary to achieve the results that the patient is looking for. Many dental cosmetic treatments, such as dental implants or Invisalign®, take multiple steps that can't all be completed in one appointment.
Just how long it takes to get your desired results depends greatly on what kind of work is being done. Teeth whitening or Botox®, for example, are fairly quick treatments with quick results, while dental implants can take several months.
For an estimation of how long it will take to achieve your desired look, be sure to schedule a consultation with Dr. Weinberg.
How Long Will My Results Last?
How long results last for will depend greatly on what treatments you're getting, but generally speaking these results are long lasting.
Keep in mind that how well you care for your teeth will greatly impact how long dental results last. To ensure that your results last as long as possible, be sure to do the following:
Avoid foods that stain your teeth. Highly acidic foods and drinks such as coffee, soda, and red sauces will stain and damage your teeth over time. Smoking will also stain your teeth.

Avoid eating foods that can damage your teeth. Chewing on hard foods such as suckers or ice can chip or damage your teeth and your dental work.

Maintain good oral hygiene habits. These habits are key to keeping your mouth healthy and preventing cavities or infection. Brush twice and floss once every day.

Schedule dental checkups frequently. Make sure to schedule a cleaning and exam once every six months, so that we can ensure that your teeth are healthy and catch any potential issues early on.
Ready to Schedule
Take the first step towards getting your dream smile today, and schedule an appointment at Weinberg Dentistry.
Our cosmetic dentistry options can improve both your smile and your confidence. Whether you're coming in for something relatively simple, such as a teeth whitening treatment, or a more complex treatment, such as a full mouth restoration, our team is ready to help.
Our team makes it a priority to ensure that you are well-cared-for every step of the way.. Dr. Weinberg is a fantastic and experienced cosmetic dentist. He uses the latest tech and techniques to give you quality results and quality service.
Are you ready to improve your smile? We're excited to get started. Schedule an appointment now!