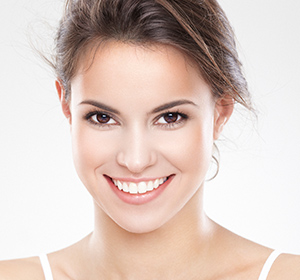 Your smile is one of the first things other people notice about you. Your social life, self-confidence, and dental health can begin to take a downturn if you avoid showing off your teeth due to insecurity about dental imperfections, including:
Crooked.
Missing.
Broken teeth.
At Weinberg Dentistry, we offer a wide variety of cosmetic procedures to revitalize your teeth and restore confidence in your smile. Our cosmetic dentistry can greatly improve not only the health and appearance of your teeth but also your eagerness to show them off.
Cosmetic dental procedures address a host of dental concerns, from misalignments to chipped or irregularly shaped teeth. These cosmetic procedures include:
Dental crowns and fillings.
Teeth whitening.
Porcelain veneers.
Dental implants.
Clear braces.
Custom smile design.
Cosmetic Issues Are More Than Superficial
Beauty is more than skin deep, but if you feel embarrassed or self-conscious about the way your teeth look, then you may feel significantly apprehensive about your good looks as a whole. Smile insecurity can make it difficult for many to talk, laugh, smile, or eat around other people.
Reluctance to show your teeth impacts more than just how you look and feel. Smile insecurity can also cause you to hold back at work, school, in social settings, and in public gatherings for fear of judgment, especially if you've been dealing with dental issues and imperfections for a long time.
Our cosmetic dentistry procedures aim to change that. These options address a variety of dental issues, so you can walk with confidence in the health and appearance of your smile.
Learn How to Improve Your Smile
Cosmetic Dentistry Can Help With Your Image
Worried about stained or yellowing teeth? Concerned with a cracked or irregular tooth? With cosmetic dentistry, you can whiten, straighten, mend, and improve your smile with a host of procedures designed to give you the natural-looking smile you've always wanted.
Cosmetic dental procedures can be as conservative or complex as you desire. Our team works to preserve as much of your natural teeth as possible, using cutting-edge procedures to upgrade your existing smile and compliment your facial structure.
Improvements to the color, shape, uniformity, and appearance of your teeth and gums can give you a significant boost in confidence. Cosmetic dentistry can transform and enhance your smile, so you can feel better, healthier, and more able to enjoy everything you have to smile about.
Weinberg Dentistry | Excellent Care and Gentle Treatments
At Weinberg Dentistry, we have an experienced and qualified dental team with years of client-centered practice. Dr. Brion Weinberg, our founder and primary dentist, has experience in both traditional and cosmetic forms of dentistry, so patients can enjoy advanced, comprehensive dental care. Plus, our West Palm Beach location is equipped with state-of-the-art cosmetic dental technology to give our patients the maximum benefit and superior service they deserve.
We believe that our patients come first. Our team of dental assistants and dental hygienists strives to make each visit a safe and comfortable experience for all of our patients. And because we get to know our patients on an individual basis, we make sure your unique treatment plan will meet your needs and exceed your expectations.
Our professional, friendly team goes above and beyond to make sure your needs are met. If you're not sure what procedures are right for you and your smile, our helpful staff will work with you to examine your current circumstances, listen to your needs and concerns, and develop a plan to give you the smile of your life.
Contact us today to find out what our customized cosmetic dentistry can do for you.
What Our Patients Have To Say
"Dr. Weinberg and his staff are always professional, kind and very accommodating. Although I have always has a fear of going to the dentist, this group of professionals always take the time to make me feel totally at ease. I would highly recommend Dr. Weinberg and his staff to anyone in need of cosmetic dentistry. My smile has changed my life!"
Popular Cosmetic Dentistry Treatments
Teeth Whitening
Popular among a wide variety of patients, teeth whitening can remedy several cosmetic dental issues. Teeth whitening is helpful for:
Minor stains.
Yellowing teeth.
Teeth that could benefit from any form of whitening.
Whitening procedures can be customized depending on your preferences and desired outcome, Bleaching options include both at-home and in-office teeth whitening treatments performed under professional supervision.
Our team considers the condition of your teeth, their sensitivity, and other aspects of your oral health to determine the right form of whitening for you and your smile. We will use the latest technologies and advancements in dentistry to make your teeth as white and bright as possible.
Porcelain Veneers
Porcelain veneers are thin, tooth-colored structures used to cover the surface of teeth. Veneers are a popular way to enhance or improve the appearance of your teeth. This procedure can alter the shape, size, and color of your smile to make minor tooth changes to create a completely new look.
Porcelain veneers are great for:
Correcting teeth discoloration.
Correcting teeth that have disintegrated over time.
Fixing chipped or broken teeth.
Fixing gaps in your teeth.
Though resin-based veneers are widely used, porcelain veneers are often a better option. Unlike resin, porcelain material is stain resistant, durable, and longer-lasting, with over twice the lifespan when compared to resin veneers.
Weinberg Dentistry encourages patients to select porcelain veneers for a more beneficial, economical treatment. Porcelain veneers are more likely to save you from having to come back sooner for repairs due to stains and other issues.
Dental Crowns
Over time, teeth can become weak or damaged due to poor dental practices and even normal wear and tear. Dental crowns are a common cosmetic procedure used to remedy vulnerable, chipped, deteriorated, or weakened tooth enamel.
Weinberg Dentistry employs cutting-edge dental crown technology with CEREC same-day crowns. Chairside Economical Restoration of Esthetic Ceramic (CEREC) crowns are ideal, as they can be placed quickly and efficiently in a single visit.
CEREC crowns are the latest advancement in cosmetic dentistry. Using 3-D images of your teeth, Dr. Weinberg and his team will create a custom-fitted crown that fits properly into your bite. Our crowns not only improve your appearance, but they also protect and preserve the general health of your teeth.
Invisalign® Orthodontics
Clear aligners are the modern solution to crooked, misaligned teeth. The Invisalign® system uses two sets of clear, custom-molded plastic trays to move your teeth gradually into place.
This system is often preferable to traditional metal braces because they are virtually invisible when worn and can be removed to brush your teeth, drink, and eat. Unlike with metal braces, no major changes to your existing dental hygiene routine are necessary.
At your first appointment, we will assess your candidacy for clear aligners. Treatment typically lasts between a few months to up to two years, with a set of new aligners provided every couple of weeks for maximum progress in adjustment.
Inlays and Onlays
If your tooth has lost some structure, whether due to damage or decay, both inlays and onlays can be placed to restore the tooth and fill in the gaps. While typical fillings are placed for minor cavities and gaps, dental inlays and onlays are used for larger structural holes.
Dental Inlays: Our dentists choose inlay treatments to fill holes in your teeth that are too large for a typical filling. We place inlays anywhere inside your tooth where there has been structural damage too great for fillings, but too insignificant for a crown. Inlays are made of a single piece of material, custom-molded to fit inside your tooth.
Dental Onlays: Not quite as significant as a dental crown, onlays can repair hollows that affect the cusp and the chewing side of your tooth. An onlay functions like a partial crown in that they preserve the structure of the tooth by covering and protecting a significant portion of it.
Dental Implants
Broken and missing teeth can be a great source of insecurity for many people. Dental implants can fill any gaps in your smile with natural-looking tooth restorations. This procedure is ideal for people with:
A broken tooth or multiple chipped teeth.
A single missing tooth.
Several teeth missing in one gap.
Significant tooth loss.
Dentures or crown bridges.
In a dental implant procedure, titanium rods are placed into the missing spaces, which then act as an artificial tooth root. Tooth-colored crowns can be attached to these rods for a complete smile that mimics your natural teeth. We can give you your dental implant care right in our office.
Dental Bridges
Patients with multiple missing teeth can restore their smile with a dental bridge. These pieces are constructed with multiple crowns on either side of an artificial tooth, or multiple teeth, that we place into your bite to fill the empty gaps.
Dental bridges are more than just aesthetic fixes. Missing teeth can cause a variety of health issues, including increased risk of dental disease and infection, pain and soreness in the jaw and teeth, and problems with chewing and speaking. After placement, they can last for decades and restore your smile for many years.
Tooth-Colored Dental Fillings
Besides being excellent for restoring teeth that have cavities or cracks, dental fillings can also help protect teeth with deep ridges that are more susceptible to damage. We use only the highest quality tooth-colored fillings at Weinberg Dentistry.
Custom Smile Design
Weinberg Dentistry offers complete smile makeovers for patients who want, or require, a full restoration of the form and function of their teeth. Our completely custom smile designs can rebuild or replace your dental structure using a variety of treatments to restore aesthetics and efficiency to the mouth.
The goal of both the custom smile design is to heal any structural issues and improve the aesthetics of your smile. To prepare your mouth for custom cosmetic treatments, your smile makeover may combine traditional dentistry treatments, including:
Root canals.
Fillings.
Extractions.
In your custom smile design, you can pick and choose from a host of cosmetic dentistry procedures, including:
Crowns.
Teeth whitening.
Dental implants.
Dentures.
Bridges.
Veneers.
Inlays and onlays.
Clear braces.
Our team can recommend the right procedures for a total smile makeover, so you can replace missing teeth, improve your bite, reduce facial or oral pain, and feel confident in your refreshed appearance.
Cosmetic Dentistry FAQs
Are All Treatments Performed In-Office?
All our dentists have extensive education and training in both restorative and cosmetic dentistry and work with our experienced dental team to complete procedures at our convenient locations. A team of the area's trusted oral surgeons, technicians, and hygienists work together to provide attentive, comprehensive dental care to each patient.
At both our West Palm Beach and Juno Beach locations, we offer sedation dentistry to help you feel more comfortable during treatment. We strive to create a soothing, welcoming atmosphere for anyone who walks through our doors.
How Experienced Is Your Staff?
At Weinberg Dentistry, we take pride in our exceptional team. Dr. Brion Weinberg has completed a wide range of post-doctoral studies in advanced dentistry and continues his education through ongoing studies at the Pankey Institute for Advanced Dental Education.
From our office managers to our dental associates, each member of our staff has years of experience working with patients in the dental field. Our friendly, detail-oriented team works with a variety of patients, helping each one to feel confident and healthy while in care and well after treatment is finished.
How Much Will Cosmetic Dentistry Cost?
Because of the wide variety of potential procedures, the total cost of your treatment will depend on the type of cosmetic dentistry you select, your current oral health, and your desired outcome.
When you schedule a consultation, we can go over each treatment option to help you achieve your ideal smile. Before we move forward with treatment, we'll review your financial responsibilities and discuss payment options available, including:
Financing.
Payment by credit card, check, or cash.
Payment installments.
Insurance coverage and billing.
We accept most insurance policies and can connect our patients with third-party finance companies to set up a financial plan that works for any budget.
When Will I See Results?
With some treatments, such as teeth whitening and same-day dental crowns, results appear in as little as a few hours. With others, results may come after several months of treatment, particularly if the cosmetic procedure is involved or requires healing between stages.
How Long Do Results Last?
In general, cosmetic dentistry procedure results vary.
Teeth Whitening: Several months to a year or more.
Veneers: 10-20 years.
Dental Implants: Over 20 years.
Crowns and Bridges: Between 8-10 years.
When you come in for a procedure, we can advise you with the specific lifespan details with your custom procedure, and provide you with best practices for aftercare to extend your results for years.
Schedule an Appointment for Cosmetic Dental Care
We are honored to be able to provide the highest quality cosmetic dentistry procedures to give you a beautiful new smile and improve your life. The team at Weinberg Dentistry can answer all your questions and get you started with treatments to revitalize your teeth, gums, or jaw. Give us a call to schedule a consultation and discover how you can transform your smile.