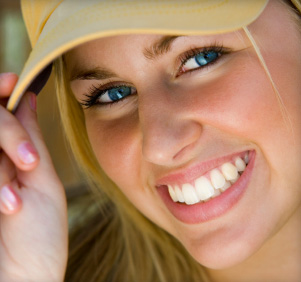 Are you sick of stained, chipped, or crooked teeth hindering your smile? Our porcelain veneers can help.
Dr. Weinberg is a skilled and experienced cosmetic dentist. He creates beautiful smiles that restore confidence to our patients. We have an attentive and supportive staff that uses some of the newest technology and techniques to create great smiles for Juno Beach patients.
Whether you're looking to restore your smile's aesthetic or protect worn teeth or both, porcelain veneers can be a great solution.
Schedule an appointment with our Juno Beach office today!
Insecure About Your Smile?
Many people put off getting dental work, not realizing how much this can hold them back in their lives. Issues such as crooked, chipped, or stained teeth can have a huge impact on both your confidence and your oral health.
Blemished teeth are extremely vulnerable to damage and infection. Putting off treating chipped teeth or worn enamel can lead to worsened oral health issues. The sooner you get it taken care of, the better your health and the less expensive the treatment.
Damaged or stained teeth can make you self-conscious about your smile and hold you back. Do you find yourself avoiding smiling or speaking because you don't like how your smile looks? Veneers can restore your smile and help give you the confidence you need.
Porcelain Veneers Can Help
Porcelain veneers can be a great solution for many reasons.
They restore your smile's appearance. Veneers can give you a smile that you're excited to show off. Our porcelain veneers can give you a bright, even smile.
Porcelain veneers are strong and durable. Veneers are almost as strong as your natural teeth, and as long as they are well cared for, they will last several years.
Porcelain veneers look natural and blend in with the rest of your smile. Each veneer is custom designed to fit in perfectly with the rest of your smile.
Porcelain has a slightly translucent quality, similar to natural teeth, and it's strong. Veneers can both protect your teeth and restore the look of your smile.
Take the First Step With Weinberg Dentistry!
Here at Weinberg Dentistry, we make it a priority to give you the best treatment possible and to give you quality care and service every step of the way. Our Juno Beach location has a skilled and attentive staff. We use some of the latest tech and techniques to give you amazing results.
Dr. Weinberg is a fantastic dentist, with additional training specific to cosmetic dentistry. He's been specially trained to apply veneers and has the experience necessary to give you the quality veneers that you've been waiting for.
With our talented dentist, attentive staff, and quality techniques, your veneers will be something truly special.
Take the first step towards an improved smile, and schedule an appointment with Weinberg Dentistry today!
Benefits of Porcelain Dental Veneers
Veneers Have a Natural Tooth Appearance
Worried about a tooth that doesn't blend in with the rest of your smile? With porcelain veneers, you don't have to be. Our veneers have a slightly transparent texture to them, just like natural teeth. This allows the veneer to integrate well with the rest of your smile.
Gums Tolerate Porcelain Well
Non-porcelain veneers can sometimes stand out due to gum discoloration, leaving embarrassing dark lines around your veneers, but gums don't react that way to porcelain. Weinberg Dentistry uses high-quality porcelain veneers to keep your gums discoloration-free. Our veneers give your smile a well-integrated and natural appearance.
Porcelain Veneers Are Stain Resistant
Porcelain doesn't stain as easily as other materials, so you can keep your bright smile for many years.
While veneers are stain-resistant, teeth aren't. To maintain a bright and well-integrated smile, you should still avoid food and drink that will stain your teeth:
Coffee.
Soda.
Tobacco.
Wine.
Berries.
Tomato sauce.
Veneers Can Make Dark Teeth Appear Whiter
Dr. Weinberg can lighten the color of your veneers to make your teeth look brighter. This artistic aspect of veneers is what makes them so appealing. It's important to note, however, that once a veneer has been placed the color cannot be changed without replacing the veneer, so keep that in mind when you come in for your appointment.
Veneers Don't Require as Much Shaping as Crowns
In most cases, veneers are a much less complex and intense option than crowns. Veneers act as a thin layer to go over your tooth, rather than replacing large portions of your tooth, and only require a little bit of tooth reshaping to bond the veneer to your tooth. This allows you to keep the majority of your natural tooth, while still improving your smile.
Veneers Are Custom-Designed
Our veneers are not one-size-fits-all. Everyone's tooth structure is unique, and our veneers are unique to each patient as well. Both the color and shape of your veneer are designed to blend in perfectly with the rest of your smile.
How Do Porcelain Veneers Work?
Diagnosis and Treatment Planning
During your initial visit, we'll go over several things to create a treatment plan for you:
Your desired results. Veneers can be used to help with a wide variety of issues: filling in chipped or misshapen teeth, protecting weakened enamel, and brightening the color of your teeth. We'll discuss the results you're looking for, and how veneers can help.
Examination. Next, we'll do a tooth examination to make sure that your teeth are healthy, and that there aren't any other issues, such as infections or cavities, that need to be addressed before you get your veneers.
X-rays and impressions of your teeth. During your exam, Dr. Weinberg may take x-rays and impressions of your teeth to analyze before your next appointment. These with help with crafting veneers that are unique to your smile.
Tooth Preparation
Before bonding the veneer to your tooth, Dr. Weinberg will need to prep your tooth for the veneer by reshaping the tooth's surface so that it will properly bond with the veneer.
A very thin layer of your tooth will need to be reshaped. This is both so that the veneer will bond properly, and so that it will integrate well with the rest of your teeth.
After reshaping the tooth, Dr. Weinberg will create an impression of your tooth. This will be sent to the lab to create a veneer that is custom-fit to your tooth.
Dr. Weinberg may issue you a temporary veneer. While we wait for your custom veneer from the lab, a temporary veneer may be necessary to protect your tooth and keep it healthy.
Veneer Bonding
Once we receive your veneer from the lab, Dr. Weinberg will place the permanent veneer. During this appointment, Dr. Weinberg may need to make some slight adjustments to the veneer until it's a perfect fit for your tooth. He'll do this by repeatedly removing and trimming the veneer before bonding it to your tooth.
Once the veneer fits properly, Dr. Weinberg will cement the veneer to the tooth. The cement permanently bonds the veneer to your tooth, so you don't need to worry about the veneer falling off.
Dr. Weinberg will blend the veneer in with the rest of your teeth. He'll select the proper cement to color your veneer so that it matches your other teeth.
Aftercare and Maintenance
After the porcelain veneer has been bonded to your tooth, Dr. Weinberg will check your veneer and make any necessary final adjustments. Following this appointment, only a few aftercare steps are necessary:
Scheduling a follow-up appointment. A few weeks after getting your permanent veneers, you'll come in so that we can check on your tooth and make sure that your veneers are fitting properly.
Continuing to come in for regular cleanings and exams. During your exam, we will check on your veneers along with the rest of your teeth, and make sure that they're still healthy and integrating correctly with your smile.
Replacing worn-out veneers as needed. Roughly every 10–15 years your veneers will wear out and need to be replaced to maintain your tooth's appearance and health. Keeping a good hygiene routine can help make your veneers last longer.
Before and After Photos

Common Questions About Dental Veneers
What Are the Disadvantages of Porcelain Veneers?
Veneers can be a great solution for improving the aesthetic of your smile. That being said, you should be aware of some disadvantages before you commit to veneers:
The process involves reshaping your teeth. This means you will lose some of the tooth's enamel. While you will lose some of your tooth's protective enamel, your veneer will serve to protect your tooth instead.
The veneer process isn't reversible. Because your tooth needs to be reshaped before it can be bonded with your veneer, you cannot have your veneer removed and need to replace the veneer if it breaks or falls off.
Veneers are vulnerable to tooth grinding. Porcelain veneers are durable, but they aren't as strong as your natural teeth. This makes them vulnerable to tooth grinding and bruxism. If you experience bruxism, we may recommend another option.
How Long Do Porcelain Veneers Last?
While veneers are a permanent solution, the porcelain may wear out over the years and need to be replaced. Typically, porcelain veneers last 10–15 years before needing to be replaced. To ensure that your veneers last as long as possible, make sure to take good care of both your veneers and your mouth by doing the following:
Protect yourself from tooth grinding. Tooth grinding, or bruxism, damages your veneers over time and is unhealthy for your natural teeth as well. Consider wearing a nightguard to protect your teeth from bruxism.
Avoid chewing hard foods. Similar to tooth grinding, foods like ice or hard candies can damage your veneers and your teeth. You may need to make a few minor changes to your diet to protect your veneers.
Maintain good dental hygiene habits. The better your oral health, the healthier your veneers. Brush and floss regularly, and make sure to visit us twice a year for cleanings and exams.
Do Dental Veneers Require Any Special Care?
Veneers are maintained the same way your natural teeth are and don't require any new or specialized techniques to keep them healthy and clean.
That being said, you should make sure to treat your teeth gently. Veneers are strong, but not as strong as your natural teeth. You may need to be more gentle with your teeth than you are used to. We may advise you to avoid certain firm foods, and may also suggest that you wear protective gear, such as a mouthguard, at night.
If your veneer does get damaged, make sure to schedule an appointment with us as soon as possible. This will protect your tooth from being more susceptible to infection or other harm.
Do note that veneers are not a substitute for taking care of your teeth. To keep both your veneers and your teeth healthy, you should still maintain proper oral hygiene. Keep up good brushing and flossing habits, and don't forget to schedule regular exams and cleanings.
How Much Will My Veneers Cost?
Each porcelain veneer is unique to the patient, and so is the veneer's cost. Many variables affect the cost of veneers: the number of veneers you're getting, the goal you're trying to achieve, and your dental insurance coverage.
For an exact price, come in for a consultation. During your consultation, we'll calculate the cost and go over payment options and plans available.
Ready To Schedule
Whether you're ready to take the first step towards getting your veneers, or you're just curious and want to know more, Weinberg Dentistry is ready to help! Our Juno beach office's convenient location makes coming in for an appointment easier and takes away some of the stress.
Patients should receive quality care and service both in and out of the chair, and we work hard to meet that standard. With a great staff, the latest tech, and a skilled dentist, Weinberg Dentistry is the place for your cosmetic dentist needs.
Don't let insecurities about your smile hold you back. Our porcelain veneers can help to restore the appearance of your teeth, and give you back your smile.
If you're ready for a brighter and more confident smile, schedule an appointment with us today!